We recently had the pleasure of sitting down with Tiffany Zadi, founder and designer at Heist, a supplier of high quality, low guilt, ethical leather goods that are handmade in Miami. She shares her path to entrepreneurship, her vision for the company and how she keeps a clear conscience by choosing ethical business practices.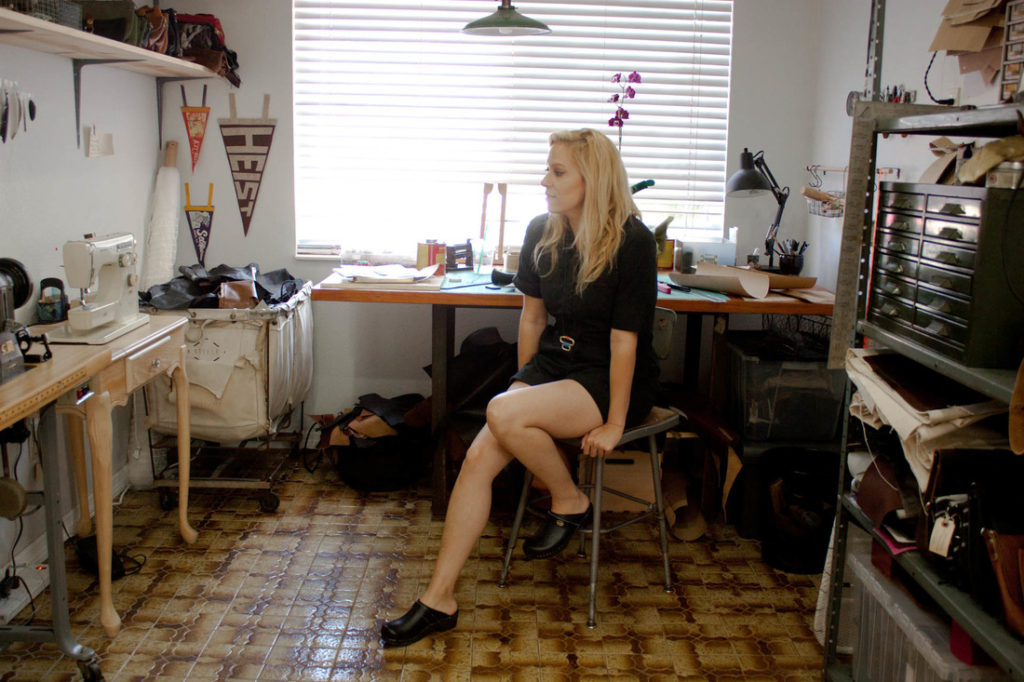 How did it all first start? When did you first pick up leather (did it start with leather?) and say I'm going to make something out of this?
My parents owned a small business, a jewelry store, so I pretty much grew up with entrepreneurship and creativity around me. After I got my undergraduate degree, I decided to start my own jewelry line, which existed under several different names and forms until I started Heist. Heist (named after a headline in a newspaper I saw on a layover at JFK Airport), also started as a jewelry company but naturally evolved into leatherwork when I started experimenting with new designs and materials. Slowly, the leather portion has taken over although I still do a very limited amount of jewelry design.
What is Heist's mission? You mention Heist never supports factory farming operations, was it always your intention to operate a company under these values?
I knew when I started making handbags that I wanted to work with leather, but I had a huge problem with the ethical side of that industry. I don't eat red meat, so it felt pretty hypocritical to use the hides of those same animals. I felt ok using salvaged leather which has the added benefit of saving waste from the landfill, but that leather is very lightweight and was limiting. After a lot of research, I realized it's impossible to track a hide from farm to leather dealer so there was no way of knowing how that animal was treated. When I found my bison leather supplier, I knew I wanted to work with them because they are a small business and a member of the National Bison Association, which ensures the humane raising of American Bison. I like to think Heist's mission is to introduce an ethical alternative to factory-farmed cow leather. You can still have high quality leather goods without the guilt associated with supporting factory farms.
Heist's mission is to introduce an ethical alternative to factory-farmed cow leather. You can still have high quality leather goods without the guilt associated with supporting factory farms.
Being an entrepreneur requires a lot of drive and dedication, what is your driving force?
I think it all comes down to enjoying what I do. I love working with my hands, I love being able to create new things every day and I love watching this small idea that I had for a business continue to grow. I do a lot of sketching, so there's always something new that I can't wait to make. Being able to get up in the morning and take that sketch and turn it into something tangible that someone will get to use and enjoy every day is pretty much all it takes to get me moving!
What has been the coolest opportunity you've had because of Heist?
So many things. I got to collaborate with the director Harald Zwart on making pendants for the cast and crew of the 2010 Karate Kid remake. Seeing everyone wearing them on the red carpet at the premiere was pretty amazing. From seeing our pieces on stage with Pharrell or on Good Morning America, all the way to customers happily wearing our pieces in the pictures they send in…it's surreal and completely awesome.
What has been your biggest obstacle as an entrepreneur? How did you overcome it?
Probably myself! The imposter syndrome and that little voice that emerges sometimes telling you you're not good enough, everyone is doing it better than you, etc. etc. When I'm feeling overwhelmed I like to just focus on baby steps. Just design the piece, or make it, or post it…what's the worst that can happen? I also like to remind myself that what I'm seeing on social media is not always real. Never compare your behind-the-scenes to someone else's highlight reel!
What I'm seeing on social media is not always real. Never compare your behind-the-scenes to someone else's highlight reel!
If you could ask help with anything, what would it be?
I often find myself spending so much time sewing product that I tend to fall behind on other aspects of my business. Lately I've been focusing less on cranking out many of the same bags and focusing more on one-of-a-kind and limited run pieces. I want to feel like I'm running a design business and not a factory. So I think the thing I need the most help with is scaling my business and bringing new people on. After all, there are only so many bags a one-person factory can crank out each day!
How would you differentiate Heist products with other leather goods?
I think the main thing is the ethics behind the brand. A lot of people (including myself before I knew better!) think of an ethical company as being synonymous with beige hemp clothing and vegan leather. I want people to know that there is another option for those of us in between. We like leather goods, the real stuff, but we want to feel good about what we buy. I see Heist as being that leather company that is somewhere in the middle.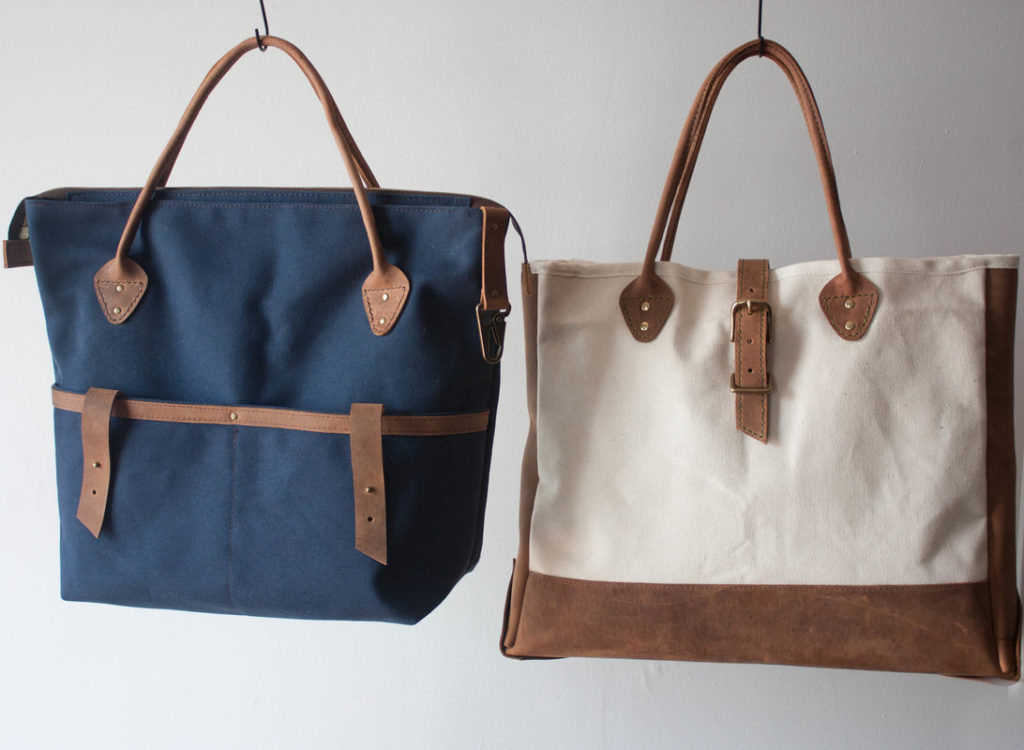 What is your vision for Heist in the future?
I hope to continue building the brand to the point where I can focus more on the design aspects and have a team that can help with the actual making. I'd love to collaborate more with other designers, perhaps outside the handbag and accessories world. Hopefully I can help create awareness that there are other options besides factory farmed animal products and fast fashion.
What is your favorite local brand?
I'm really loving the macramé pieces that Yerbamala Designs creates. Also, my friend Carla Merino makes beautiful jewelry.
How has building a company changed your perception of things, whether it be in business, culture, values, etc?
I think owning my own business has really shown me the value of time-management and balance. Since I work from my home studio there is very little separation between work and my private life, so I tend to always be doing something Heist related. I've learned that I need to make it a point to spend time away. It's so easy to just keep working because there is always something more to do and if you're not doing it yourself, it's not getting done! But creating time for self-care and travel is just as important, and that's usually when the good ideas come too!
Wildcard: If you had unlimited access to money what would be the first 3 things you'd do?
The first thing I would do is start purchasing and rehabbing old buildings and homes. I hate that Miami is so eager to tear down anything in existence to build another condo building.

Second, I would probably help fund animal shelters, or even build my own.

Third, I would buy a cabin in the woods somewhere and go on a nice long extended vacation!
---
Heist products are available online as well as at pop-up events throughout South Florida.

Connect with Tiffany Zadi from Heist on Facebook, Instagram and Twitter to catch the latest from Heist!
---
 Want to read another interview?
ThankYouMiami: Miam's Biggest Fan and an Accidental Entrepreneur